The ADVENTURE of a LIFETIME.
Discover the slowly disappearing Mongolian Nomadic lifestyle, ride one of the oldest and toughest horse breeds in the world. Be part of an authentic Nomadic camp.

Compete against riders coming from the four corners of the world, from all levels and disciplines. Cut your self off from the modern world and reconnect.
Take part in a race that makes a difference!
Have you got the

HORSEMANSHIP it takes?
EVENT SCHEDULES:
Day 1: Compulsory briefing at the recommended hotel in Ulaanbaatar at 1pm.
DAY 2: Pick up at 7:15AM sharp in front of the Hotel. Put your bags in a vehicle and jump in. The drive to the start camp is about 4 hours. On arrival, pick a tent and a roommate. Put your bags in your tent and join us at the marquee for lunch.
After lunch, we will hand out the saddle which you will fit, with your equipment (fenders and cage stirrups). A short Mongolian horsemanship demonstration, and you will be off training for 5 to 10km.
DAY 3: After breakfast, the riders will come to the horse line, and go for a last training ride before the race starts. Lunch in the marquee, followed by the opening ceremony.
DAY 4: Race Start!
DAY 5,6,7,8: Race days.
DAY 9: Last day of the Race.
DAY 10: Closing ceremony, presentation and a party!
Day 11: Transfer back to Ulaanbaatar after breakfast.
AT approximately 40KM/first vetting: Your time stop when you cross the finish line.
You will have 60 minutes, before to go out on the second loop. The faster you enter the vetting, the more time you and your horse have to eat lunch and rest.
Riders will do a "trot out "under saddle; the horses will be checked for lameness.
Riders have 30 minutes maximum to get their horse's heart rate below or equal to 64bpm. As soon as the rider is ready, they may enter the vetting.
Second vetting at approximately 80KM/final vetting:
Your time stop when you cross the finish line. Riders will do a "trot out" under saddle; the horses will be checked for lameness.
Riders have 30 minutes maximum to get their horse's heart rate below or equal to 64bpm. As soon as the rider is ready, they may enter the vetting.
After the vetting, you will hand over your horse to one of our horseman and may go to camp or cheer on the other riders.

What happens if a rider vets out? They will not get any points for the day but will keep riding the following day. If vetted out at the 40km vetting, they will be carried forward and the horse will be picked up.
Withdraw: Riders may withdraw on course if they are tired, unwell or sore… however the horse must past the vet check, otherwise, it will be a vet out.
ON COURSE VETTING: One of our veterinarian will be on course, to check on the horses and make sure they are ridden safely. You may be asked to do a trot out, or get a vet hold if you are over riding your horse. Horse welfare is our priority; you may be very competitive, but you can only ride you horse to the best of his capacity.
Checkpoints: They will be set up every day at 15,30,55 and 70km. You will have water for your horses, the veterinarian will keep an eye on the horses and the Doctor on the riders. On hot days, we will try and help you as much as possible by providing extra checkpoints on the second loop.
Horse draw: Every evening after dinner, the riders will draw a number out of a bag. A horse matching the number drawn will be handed to the rider in the morning.
Horse welfare: On top of the vetting, and the on-course vet, we have another measure to ensure the best standards of horse welfare are met. The draw will be done in 3 categories: Heavy weight 75-85kg, the amateur riders, and the rest. Riders will be able to change category once during the race.
AWARDS:
Daily awards: Best managed and sportsmanship.
Overall awards: Best Managed.
Presentation: First 3 individual riders and the first 3 teams of four riders.
THE GOBI DESERT CUP BUCKLE: All the riders completing the 480-kilometre course and passing all the veterinary inspection, will be presented with a buckle.
The officials on course: Ride director, Veterinarian, Doctor, volunteers for checkpoints, photographers, drivers, interpreters. About 6 vehicles will be following the riders from the front runners to the ones at the back. We will be checking on you regularly through the race.
What is included in your nomination?
THE RACE: The Gobi Desert Cup, 480 kilometers in 6 days.
THE HORSES: Over 160 horses are trained for over two months at our training center. You will have two horses for training, 6 horses for the race, and spear horses.
EQUIPMENT: Thank you to Franco C saddlery in South Africa, we have custom made saddles for the Mongolian horses. These are made for long distance riding and are comfortable. We will provide you with a traditional Mongolian bridle, a saddle pad and girth.
HERDERS/TRAINERS: More than 30 people are working around the clock 3 months before the race. They select the horses, pick them all up from different location and bring them to the camp. This is where the horses are trained for the cup. The horses are monitored day and night.
THE CAMP CREW: More than 30 people are employed to run the training center for over 3 months.
3 DIFFERENT CAMPS: The camp will move on 3 different days. While the riders are riding, our team will dismount the tents, marquee and Gers. They will be transported to the next camp and be set up again.
MARKED COURSE: A hand marked course, with flags and markers.
Camp: A marquee to enjoy your meals, Spacious tents (2 riders per tents), basic amenities.
Chef-cooked meals and traditional Mongolian food during the different ceremonies including fermented mare's milk.
A team of professional FEI-qualified endurance veterinarians who have international vetting experience at high endurance level to insure international horse welfare standards are met.
A doctor to follow you during the race and attend any accident that may occur.
Officials to run a safe and fair race.
An opening and a closing ceremony with a total immersion in the local culture.
Presentation: for the first 3 individual and the first 3 team with the most points overall. The best managed overall.
You will have access to a rider portal with more detailed information and a social media rider group.
From pick up to drop off, it is all inclusive. Transport, food, accommodation and the occasional extra party!

Over 60 jobs are created before during and after the race, 90% of the jobs we create employ nomadic people. We provide them with a sustainable income to send their children to school, and support their families. THANKS TO YOU!
WHAT IS NOT INCLUDED IN YOUR NOMINATION?
Insurance: You must provide us with a current certificate of insurance.
Hotel: Make your own reservation at the recommended Hotel.
Visa: Some countries require a visa to enter Mongolia.
Flights: It is recommended to arrive the days before and stay two days after.
Compulsory equipment: Fenders, cage stirrups, helmets, back pack with a 2L water bladder and bedding (sleeping bag, camping mattress and pillow). A water bottle to use around camp, this will save a lot of plastic! Sponges and clips to cool your horse down, a wool girth cover. A stethoscope and stop watch to take your horse's heart rate.
Now accepting applications for
19th - 28th August 2020.
Nomination fees: USD $7,300.
Riders must apply via our website. Answer the questions, tell us about your experience. THE GOBI DESERT CUP IS BY INVITATION ONLY. Upon receipt of your letter of invitation, a NON-refundable deposit of 20% of full nomination fee, must be paid within seven days to secure your place in the Gobi Desert Cup.

The payment options: Pay in full upon sign up or pay by instalments.
Payment plan: 20% deposit ; 50% by November 15, 2019; Balance due by March 1, 2020.

*We have a no-refund policy; therefore, we encourage riders to insure their nomination fee.
Some riders come to win the Cup, some bring a team to finish the challenge and others come to race against themselves in Mongolia. The support, encouragement and camaraderie through each event has been astonishing! They all go home with an extraordinary experience and great friends.
Ride Director, Camille Champagne.
At the end of the race, everyone was happy and proud.
The Gobi Desert Cup, has kept me in the horse world in a moment of my life, when I was ready to quite. The event, changes the way people thing, it make them believe in themselves. I have met extraordinary people, and realised the event is loved and respected by the locals.
Monde Basi, South Africa.
"It is truly the most character building challenge I have ever faced and overcome".
Kendall Moore, Australia.
An unforgettable experience, with extraordinary horses. On a day I won, the trainer came to me, in tears, to congratulate me and thank me. It was magical.
Laetitia Goncalves, Gold medallist by team and bronze medallist individual at endurance world championship. Two national championship titles in France and more.
The race is a highlight in my life. The horses, the culture and the team behind it. They are truly wonderful, and I learnt so much about myself and horsemanship from my fellow riders.
Shelley Ensor, Cavalcade rider, New Zealand.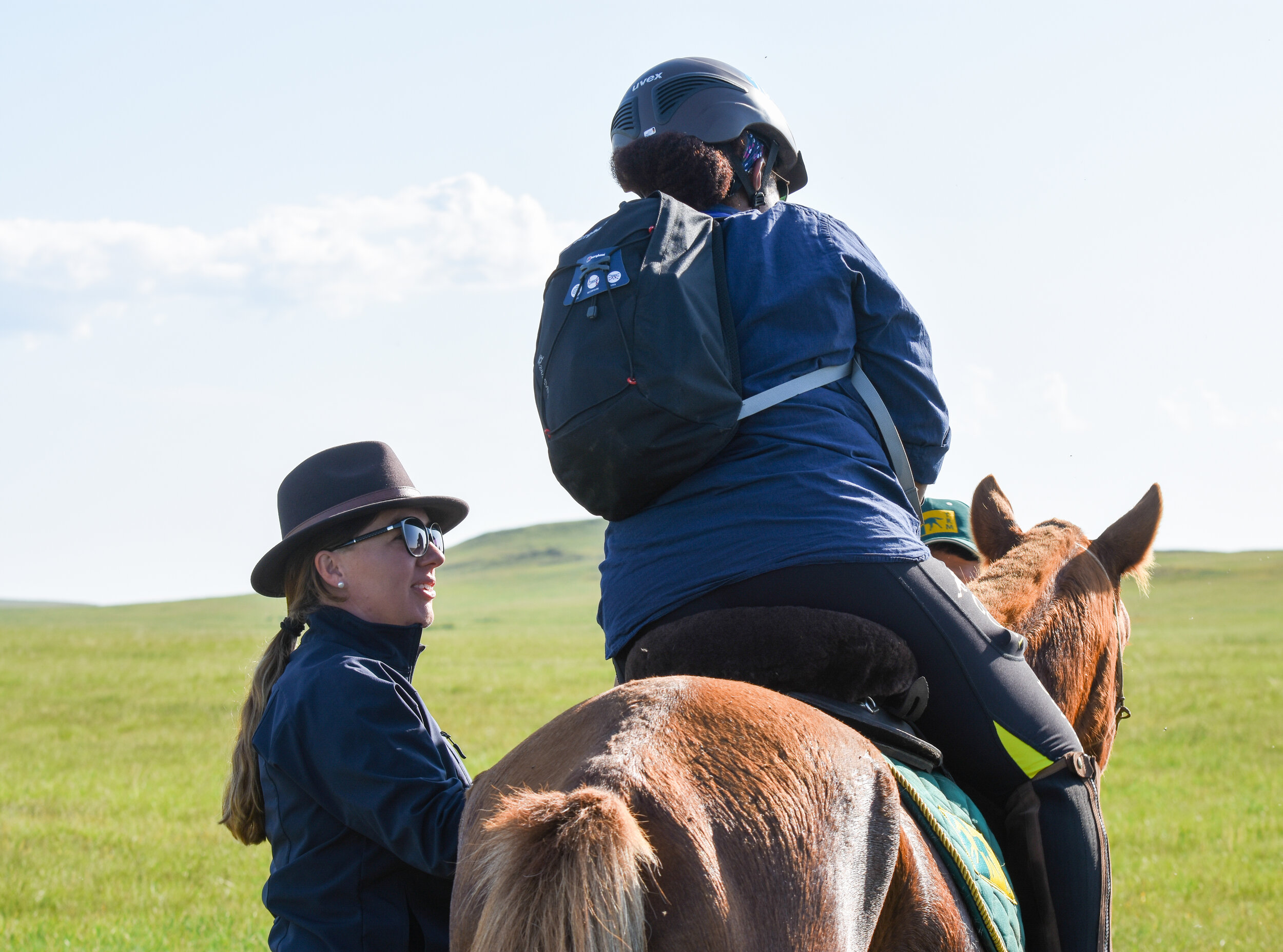 My goal was to ride outside the Dressage arena.
Sybil Mair United Kingdom.
Riding in the Gobi Desert Cup and experiencing Mongolia was nothing short of amazing. I came as a polo player, with no endurance experience and I walked away with a deep love and respect for the Mongolian horses and people that I could never have imagined. It was a true bonding experience with the other riders and the staff as well. Memories were made that will last my lifetime.